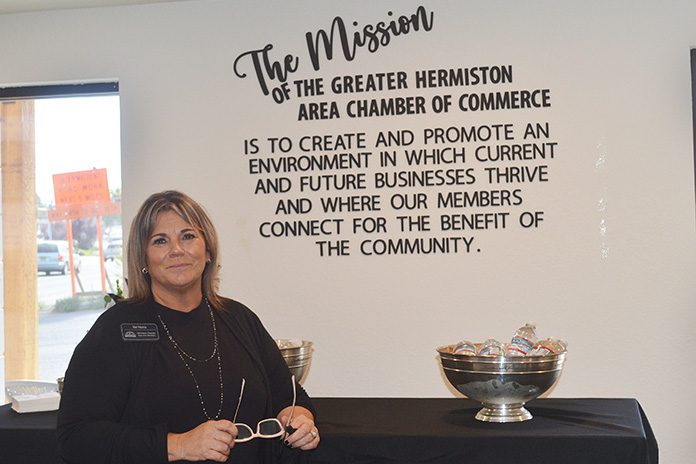 The sunshine came out Friday for the grand opening of the new Hermiston Chamber of Commerce.
After spending the past couple years tucked away in the Cornerstone Court, the chamber's home is now in the newly-refurbished building which used to be home to Pioneer Title Company at 630 S. Highway 395.
"This is the perfect place for us," said Val Hoxie, the chamber's executive assistant. "When you walk inside here, it feels like spring has sprung."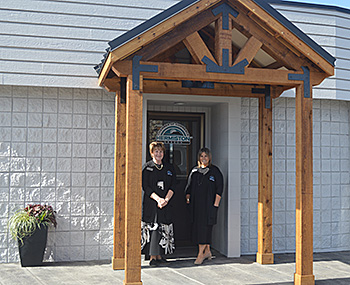 Visitors stopped by throughout the day and were treated to coffee and donuts early in the day from Sun Terrace, pizza from Domino's, and sliders, fires and beverages from OMG Burgers & Brew, Lamb Weston and Bellinger's.
Hoxie and Chamber Board Chair Kris Bennett gave tours of the new home throughout the day with the first stop being in the lobby where the chamber's mission statement – outlined in big black upper-case letters – grabs the eye of visitors:
"The Mission of the Greater Hermiston Chamber of Commerce is to Create and Promote an Environment in Which Current and Future Businesses Thrive and Where Our Members Connect for the Benefit of the Community."
"This is my most favorite thing we have here – our mission statement," Hoxie said. "Kris and I spent a day putting up the letters one by one. I think our members deserve more than just an 8-by-10 plaque."
The new location features a kiosk in the library, a small conference room for classes and meetings as well as a spot for members to be interviewed for short promotional videos highlighting their business.
Hoxie said the goal of the chamber is to "get back to basics. We want to really focus on helping businesses grow and connect with the community."
The chamber currently has about 400 members and just added five more in the past week.
For more information about the chamber and its programs, call 541-567-6151.