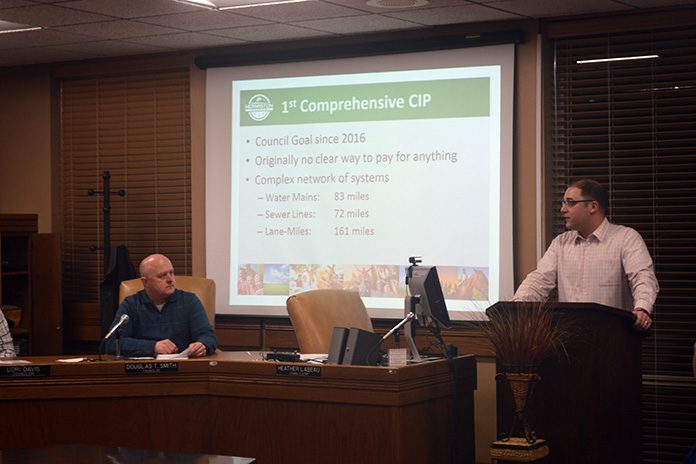 The Hermiston City Council voted unanimously Monday night to approve a plan to upgrade the city's public works system to the tune of about $19 million over the next five to six years.
"This is the culmination of a lot of work," said Hermiston Assistant City Manager Mark Morgan as he presented the scope of projects that cover Hermiston's water, sewer and street systems.
The 90-page plan also includes many more unfunded projects that will be moved toward the front of the list as time goes by and revenue becomes available. Revenue has already been earmarked for the $19 million worth of projects highlighted Monday night.
The city has identified about $4.4 million in water projects, $6.47 million in sewer projects, and about $8 million in street projects.
Morgan talked briefly Monday about each of the projects that have the green light and that will be completed over the next five to six years. In the water department, those include well pumping upgrades; providing cathodic protection to the well no. 4 and no. 6 reservoirs in order to extend their lives; extending the Geer Road water line; replacing the water line on West Ridgeway; replacing the water line on North First Place, which will cost $800,000 alone; and replacing the water line on Orchard Avenue, which is estimated to cost $810,000.
Sewer system projects identified for the next several years include replacing gravity sewer lines on S.E. Seventh Street ($610,000); pump system upgrades; ventilation system replacement; replacing generators; reconstruction of lift station no. 4 ($450,000) and no. 6 ($600,000); upgrades to lift station no. 3 ($900,000); and replacing the membrane filter at the recycled water treatment plant ($600,000).
Street department projects that will take place over the next five to six years include replacing the bridge on S. First Street, set to begin next month at a cost of $200,000; W. Hermiston Avenue overlay ($490,000); E. Theater Lane construction ($630,000); N.W. Geer Road, W. Harper Road and N. First Place realignment ($1.5 million); and N. First Place road improvements. That last project will cost $4.5 million and will be largely funded by state gas tax revenue.
Morgan said much of the city's public works infrastructure is decades old and badly in need of upgrades and replacement.
Mayor Dave Drotzmann said while the projects are costly, they are necessary in order to provide the quality of life people in Hermiston expect.
"Some of our infrastructure is over 100 years old," he said. "We need to look long term so our community remains safe and viable."
Drotzmann said Hermiston does not want to be another Flynt, Mich., where the city's water system was so old and corroded that the lead level in the city's water has become virtually poisonous.
"I'm proud of our city for doing this and being forward thinking," said Drotzmann.
Morgan said the plan is expected to be updated every two years.