Hermiston High School will have a new boys basketball coach next season.
Hermiston School District Athletics and Activities Director Larry Usher announced Romaine Smith as the new HHS coach.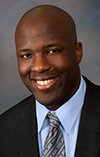 Smith has been the boys assistant basketball coach in Prosser, Wash., since 2013.
"I am very excited about the opportunity to lead the Hermiston boys program," said Smith.
"We are very excited to add Romain Smith and his family to our program and the Hermiston community," said Usher. "Finding a coach with the passion and excitement for basketball that 'Coach Ro' has is not easy these days, and we are certain that his energy will translate to a very positive culture in our program."
Smith and his wife, Josefina, have five children:  Isaiah, JJ, Marcus, Kianna, and Jacob. Smith will replace current head coach Drew Preuninger, who is relocating at the end of the school year.