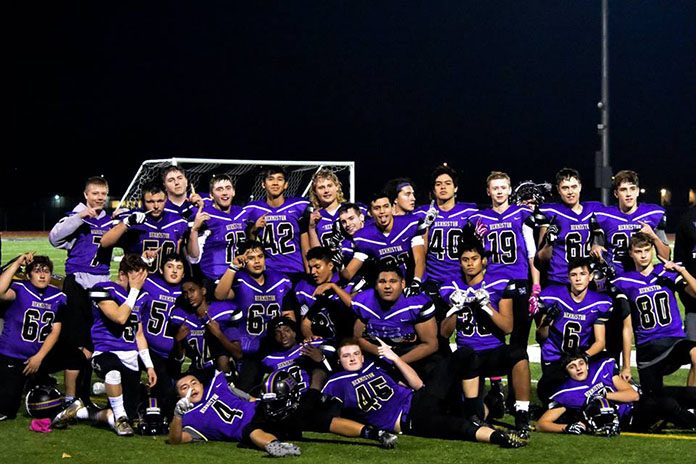 As the high school football season winds down, Hermiston has a promising future to contemplate: A JV football team that finished its season undefeated at 8-0 and beat Pendleton 64-14 in the final game.
Gary Posten, an assistant football coach at Hermiston High School, said the season featured a team of athletes greatly improving from the first game to the last.
"Our boys have a lot of fight in them and I believe that they had the attitude all season that every game was in their grasp even when they were down or when mishaps occurred," he said. "It's my hope that they can carry over their success and teamwork from this season into next season as we transition to Washington."
The Hermiston Bulldogs will join the Washington Interscholastic Activities Association next season.
The Hermiston JV roster consisted of:
Austin Garcia, sophomore
Zack Tovey, sophomore
Ryan Arnold, sophomore
Ivan Rangel, sophomore
Seilala Sepeni, sophomore
Seth Prewitt, junior
Garrett Hills, sophomore
Colton Duquette, junior
Derick McBride, junior
Sean Stewart, sophomore
Daniel Madrigal Barrera, sophomore
Dominick Lewis, sophomore
Tyler Myers, junior
Garrett Walchli, sophomore
Broc Remmer, sophomore
Guiomar Garay, sophomore
Ryland Guenther-Kestler, sophomore
Julian McNalley, junior
Daymian Rivera, junior
Payton Smith, sophomore
Sergio Rosales, junior
Dylan Smith, sophomore
Andrew Earl, sophomore
Cody Thacker, sophomore
Colby Murray, sophomore
Nathan Wheeler, sophomore
Jonnathan Mosqueda, sophomore
Trent Pitney, sophomore
Tysen Salinas, sophomore
Here's the season schedule:
8/31/17 vs. Union (WA)
9/7/17 @ Lewiston (WA)
9/14/17  vs. Mountain View
9/21/17 vs. Summit
9/28/17 @ Hood River Valley
10/5/17 vs. Ridgeview [Cancelled]
10/12/17 @ Bend [JV]
10/19/17 @ Redmond [JV]
10/26/17 vs. Pendleton [JV]