A Hermiston man and a 17-year-old were taken into custody on Monday for their alleged involvement of a residential burglary.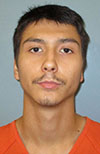 According to the Capt. Scott Clark of the Hermiston Police Department, Brenden Dion Erickson, 18, and a 17-year-old male, also from Hermiston, are believed to have also been involved in a number of alleged car prowls or unauthorized entry into a motor vehicle, as well as thefts in the Hermiston area.
The two were arrested around 11:39 a.m., about an hour after the alleged residential burglary on Monday. Clark said HPD officers are working with deputies from the Umatilla County Sheriff's Office to help close the other cases.
Erickson, who Clark said also had an outstanding warrant for his arrest, was lodged in the Umatilla County Jail on the warrant as well as charges of first-degree burglary, first-degree theft, criminal conspiracy, and unauthorized entry into a motor vehicle. The 17-year-old male was turned over to the custody of the Umatilla County Youth Authority for detention on the same probable cause charges, as well as carrying a concealed weapon.