Jay Ego will be the new Hermiston High School head girls basketball coach.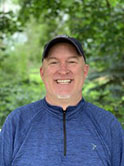 Ego is a Hermiston native, born and raised, and he played basketball for HHS. He will replace current head coach Maloree Moss, who is relocating at the end of the school year.
Ego has extensive coaching experience, including head coach at Beaverton High School from 2005-2015 and Tualatin High School from 2016-2019. He is currently the varsity assistant at Wilsonville High School.
"We are very excited that Coach Ego has decided to return home to Hermiston and coach our girls program," said District Athletics and Activities Director Larry Usher.