Hermiston School District Athletics and Activities Director Larry Usher has announced that Amy Stone will be the next Hermiston High School head fast pitch and slow pitch softball coach.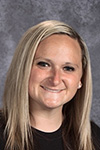 Stone is a former HHS assistant coach under previous head coach Kate Greenough. Stone also brings coaching experience with her from David Douglas High School and Clackamas Community College where she was an assistant coach.
"We are very excited that Amy has decided to return to the diamond and take on the challenge with our softball program," said Usher. "The HHS softball coaching staff and athletes will get the opportunity to play in the brand new softball complex on the high school campus, and we look forward to watching them compete this fall and spring."
Stone will replace current head coach Rebecca Pridmore, who is relocating at the end of the school year.