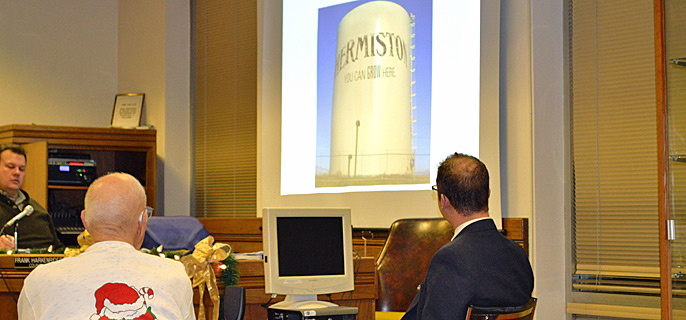 Motorists traveling north into Hermiston from Highway 395 will soon get the message the city wants them to get: You can grow here.
The Hermiston Council voted Monday to spend $16,000 to paint its new word mark, Hermiston: You Can GROW Here on the south side of the city's water tower. The north side will remain the same and will continue to have the famous watermelon logo.
The new word mark will be painted over the watermelon logo on the south side of the tower and the new paint will be blended into the existing paint.
The word mark was the result of feedback the Hermiston Futures Task Force heard that pointed out the need for the city to establish a "community identity." A sub-group to the task force met throughout 2012 and early 2013 to examine Hermiston's identity and to develop options for the future. Working with Limelight Design, the task force came up with Hermiston: You Can GROW Here.
Assistant City Manager Mark Morgan said the city's continuing population growth, coupled with its strong agriculture ties and its desire to attract new businesses was the impetus for creating the new community identity.