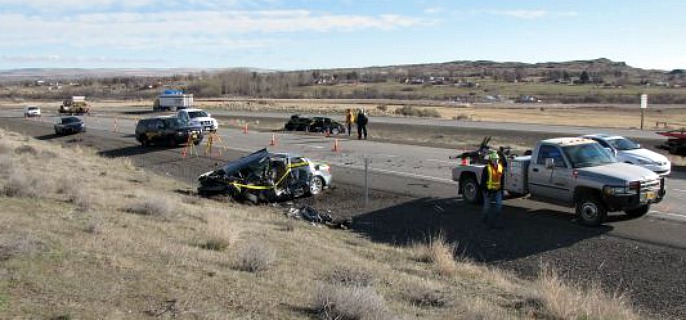 [quote style="2″]Charges Stem from March Auto Accident That Killed Ione Man[/quote]
A Hermiston woman is in jail on manslaughter charges in connection with a fatal traffic accident in March that killed an Ione man.
The Oregon State Police arrested 31-year-old Alicia G. Breckheimer Monday morning for her role in the death of Robert Henry Baker, 66, on March 7 in which she allegedly was driving the wrong way on Interstate 82 near Hermiston and collided nearly head on into the Baker's vehicle.
Breckheimer was arrested at approximately 8:25 a.m. at her Punkin Center residence on charges of first- and second-degree manslaughter, driving under the influence of intoxicants, three counts of recklessly endangering another person, and one count of reckless driving.
The arrest stems from the March accident that occurred around 1:27 a.m. when Breckheimer was driving her 2005 Cadillac CTS westbound in the eastbound lanes of I-82 near milepost 4. Her vehicle collided with Baker's 2006 Chrysler 300. Baker was pronounced dead at the scene.
Breckheimer had to be extricated by firefighters and initially transported by Hermiston Ambulance to Good Shepherd Medical Center in Hermiston. She was later flown by LifeFlight to Legacy Emanuel Medical Center in Portland where she was treated and subsequently released.
Alcohol was considered a possible cause in the immediate aftermath of the accident that was investigated by OSP collision reconstructionists.