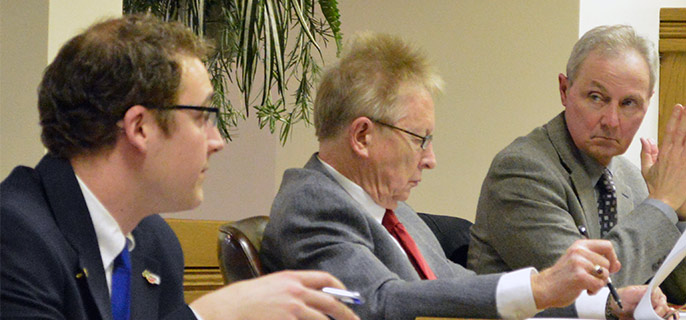 In its efforts to attract businesses to the area, the city of Hermiston has a new marketing tool at its disposal – a study showing Hermiston businesses pay lower water and sewer rates than its Eastern Oregon counterparts.
Assistant City Manager Mark Morgan unveiled the results of the study at the Jan. 28 Hermiston City Council meeting. The study compares the combined water and sewer rates for eight classifications of commercial users in various Eastern Oregon cities ranging from small retail shops to large-scale industrial and ag processing plants. Hermiston's rates were cheaper in seven of the eight classifications.
A summary of the study and the full study can both be found at the city of Hermiston's website.
The study found that a typical full-service restaurant in Hermiston paid an average of $3,887 annually compared to Baker City – which had the second-cheapest rates – with an annual bill that was 52 percent higher at $5,981. Pendleton was third among the cities in the study with an annual rate of $6,779.
A "big box" retail store in Hermiston paid an average of $3,752 annually compared to Baker City's average annual bill of $5,937 – a 58-percent difference.
The biggest gap in annual payments was found in the industrial/warehousing category. The study found a 205-percent jump in annual water/sewer rates between Hermiston ($16,800) and the next-cheapest city, Pendleton ($34,368).
This, said Hermiston Mayor Dave Drotzmann, bodes well for the city in its marketing efforts to bring in new businesses.
"It's affordable to grow your business here," said Drotzmann. "We're open for business. That's the message we're sending out."
The one classification in which Hermiston does not have the lowest water/sewer rates was in small retail shops. That distinction belongs to Ontario with an average annual bill of $261, followed by La Grande at $323 and Hermiston with an average annual water/sewer bill of $417. The Dalles had the highest annual rate for small retail shops at $965.
The study comes on the heels of a similar study showing Hermiston residents pay lower utility rates compared to similar-sized cities in Eastern Oregon. The results of that study can be found here.
"The bottom line is we've structured our rates in such a way that if you use a lot of water, it's not going to cost you in terms of rates," said Morgan.
City Councilor Rod Hardin said the study is one of the factors in Hermiston's continued growth over the years.
"I can see why we're growing and some of the other cities are not," he said.