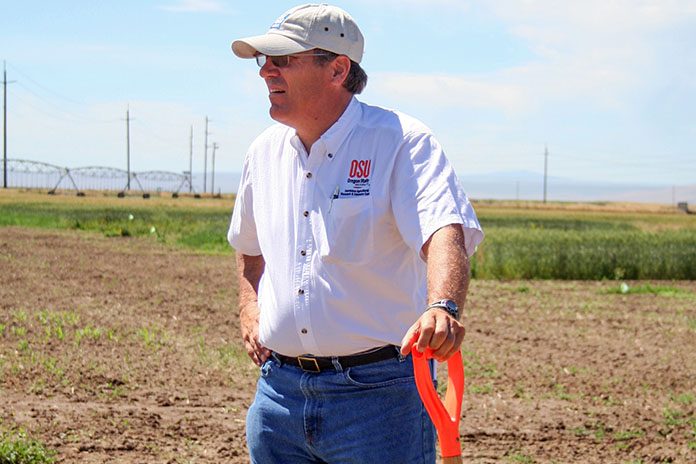 A banquet and fun run are planned for Saturday, Sept. 28 to remember Don Horneck and raise money for ag education in his honor.
Sponsored by the Hermiston Lions Club, the events honor the longtime agronomist and soil scientist at OSU's Hermiston Agricultural Research and Extension Center. Horneck, who passed away on Sept. 28, 2014, was an active member of the Lions Club.
This year, proceeds will be donated to Umatilla County 4-H for educational programming and to the rebuilding of Hermiston Funland Playground which was damaged by fire.
The 5K fun run and walk will begin at 9 a.m. at Riverfront Park. Registration opens at 7:30 a.m., with an entry fee of $15.
The banquet and auction begins with a social hour at 6 p.m. at the Hermiston Community Center, 415 S. Highway 395. Dinner will be served at 6:30 p.m., followed by live and silent auctions. Among activities to spice up the evening will be the Dessert Dash, with sweets prepared by local restaurants and caterers.
Tom Spoo will cater the dinner, Josie Evans of Lexington will provide entertainment and Charlie Clupny will emcee.
Banquet tickets are $40 and are available at the Good Shepherd Health Care System, Kuhn Law Office, OSU Research & Extension Center, Hermiston Chamber of Commerce and Umatilla Electric Cooperative.
Banquet sponsorships are available by contacting Phil Hamm at philip.b.hamm@oregonstate.edu or Bill Kuhn at WJK@kuhnlawoffices.com. Donations of auction items may be made by contacting Aaron Treadwell at atreadwe@umchs.org. For more information, call Kuhn Law Office at 541 567-8301. The Lions will arrange to collect your auction donations, which are tax deductible.
In addition to donating over $25,000 to local community non-profits over the past four years, the Lions have donated $38,800 to the Don Horneck Scholarship endowment at OSU, taking it well above the $100,000 level.
Previous donations have supported the Oregon State University Foundation, BMCC's Precision Irrigated Agriculture Center and Umatilla Electric's Hydromania.