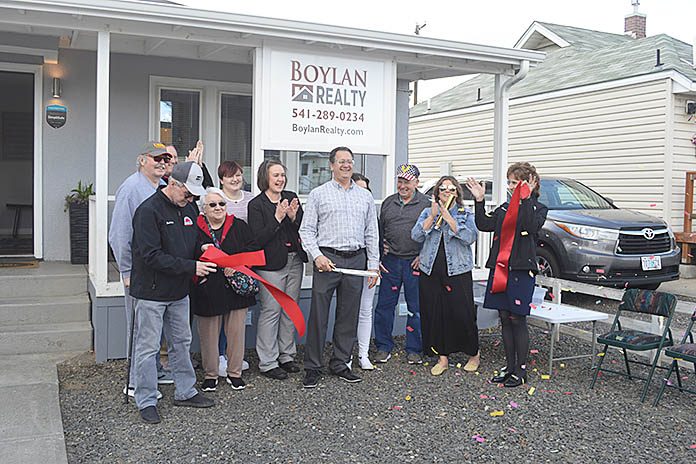 The doors to Boylan Realty have been open since November, but on Thursday it received its grand opening with the help of friends, family, and the Hermiston Chamber of Commerce.
"We have been dreaming and planning for this day for quite a while," said Mike Boylan. He and wife Melissa opened the business at 210 S.W. Third Street, formerly the site of chiropractor Kenzie Maloy before she moved her practice to W. Hermiston Avenue.
Mike has been a Broker/Realtor since 2016, including presiding as president of the Columbia Basin Board of Realtors in 2021.  He has extensive knowledge in manufactured housing and the process of new construction builds. Melissa received her broker's license in 2021. Her previous work experience includes marketing manager at Umatilla Electric Cooperative and owning her own web site design company.
With new housing on the rise in Hermiston, Mike Boylan said this is a great time for both buying and selling homes.
"We've got three new listings coming on (today)," he said.
Thursday' grand opening attracted a large crowd of family and friends with smiles on everyone's faces.
"We're just delighted," said Boylan.
The chamber has been busy this year with several new businesses opening. Director Val Hoxie said she expects the chamber to host new business openings more and more as spring turns to summer.
"We hope to have them every week," she said.
Visit the Boylan Realty website for more information.