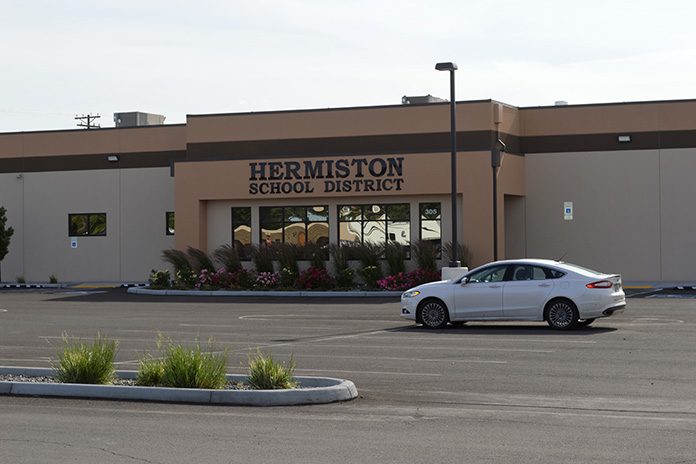 The Hermiston School Board narrowed the applicant pool and is set to interview three candidates for the interim superintendent position.
The interim superintendent will fill the position for 12-18 months. Staff and community members are invited to attend the interviews scheduled for Monday, July 24, in the District's Boardroom, 305 SW 11th Street, from 2-6:30 p.m.
Earlier this month, Superintendent of Hermiston Schools Dr. Fred Maiocco informed the Hermiston School Board that he will leave for extended active duty as a member of the U.S. Armed Forces. Maiocco estimated that his new deployment will last approximately 15-18 months, and he anticipates returning to Hermiston in late fall 2018.
The three finalists are:
Tricia Mooney: Mooney is currently the Assistant Superintendent of Human Resources for the Hermiston School District. Mooney started her education career in 1995 as a teacher in the Hermiston School District. She served as a Title I teacher at Sunset Elementary School and then as a sixth grade teacher at Sandstone Middle School. In 2005, she was selected to be the principal of Rocky Heights Elementary School, and in 2007 she was promoted to middle school principal at Armand Larive Middle School.
In 2008 she was hired by the Pendleton School District to be the director of human resources, and in 2009 was promoted to assistant superintendent. Mooney earned a bachelor's degree in elementary education from Northwestern College in Iowa in 1995, a master's degree in educational leadership from Washington State University in 2001, and is currently working on her doctorate.
Philip "Buzz" Brazeau: Brazeau recently retired as the Superintendent for Central School District 13J, where he served from July 2012-June 2017. Brazeau served as principal for Hermiston High School from July 2007-June 2012; was recognized as the 2011-12 Administrator of the Year, and served as assistant principal for Hermiston High School from July 2004-June 2007. Brazeau was assistant principal for North Medford High School from July 1997 to June 2004. He earned a bachelor's of science degree in physical education from Washington State University, a master's degree in education from Southern Oregon University and holds an administrator license from Portland State University.
Richard Rundhaug: Rundhaug is currently serving as a consultant for A+ Educators in Phoenix, Arizona; his service began in January 2015. Rundhaug served as the superintendent for the Willcox Unified School District from June 2008 to June 2014; assistant superintendent for Coolidge Unified School District from August 2005 to June 2008.
Rundhaug earned a bachelor's degree in diversified general studies from Hope International University in California; master's degree in educational leadership from Northern Arizona University in Arizona; master of business administration in business analysis from Webster University in Arizona and a doctorate degree in educational leadership from Capella University in Arizona.
Staff and public are encouraged to participate and be present for the entire process with all candidates. Attendees will have the opportunity to participate by providing written comments for each candidate. Each comment card submitted will be reviewed by the Board and will be taken into consideration in the final decision.