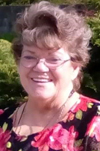 Jeanne Rhome Passes Away at 63
Jeanne Suzanne Rhome of Hermiston passed away in Hermiston on April 10, 2019 at the age of 63.
She was born on Oct. 18, 1955 in Wilmington, Del. to Robert and Jeanne Collings Rhome.
Jeanne moved to California as a child, where she attended school and graduated from West Covina High School. After high school she attended Mt. San Jacinto College, where she received her associates degree in their dental assistant program. She then worked as a dental assistant in Montclair, Calif. for several years. She later lived in the communities of Temecula and Murrieta, Calif. She worked as a waitress and operated a sewing business, Sewn From the Heart. She moved to Hermiston in early 2018 to be closer to her daughter.
Jeanne enjoyed drawing, painting, baking and sewing. She was very artistic and creative and used her talent to create many beautiful things.
She is survived by her daughter, Heather (Ken) Gilham; son, Dean (Rachel) Ward Jr.; mother, Jeanne Mildred Rhome; brothers, Robert, Richard, Randy and Russell; grandchildren, Andy, Jessica, Aiden, Bella, Elizabeth, Briana and McKayla; and many nieces and nephews and extended family members.
She was preceded in death by her father, Robert; sister, Donna; and nephew, Sean.
A memorial service will be held at 10 a.m. on Saturday, May 4, 2019 at Sun Terrace Assisted Living, 1550 N.W. 11th St., Hermiston.
To leave an online condolence for the family, please go to burnsmortuaryhermiston.com.
Burns Mortuary of Hermiston is in care of final arrangements.