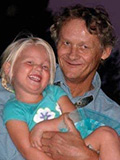 James "Jim" Irwin of Hermiston passed away on Saturday, March 2, 2019 in Richland, Wash., at the age of 58.
He was born on April 26, 1960 in Springfield to Donald and Kathleen (Hottell) Irwin. Jim grew up and attended school in Umatilla. After high school, he joined the Army where he served for two years. He then returned to Eastern Oregon and has resided in Umatilla, Irrigon and Hermiston. He worked as a carpenter and in recycling during his lifetime.
Jim enjoyed camping, fishing, being in the outdoors and playing horseshoes. He has a lot of friends, touched a lot of lives and will be missed by his family and friends. He also enjoyed telling jokes and making people laugh.
He was preceded in death by his parents; brothers, Ronnie, Donnie and Ken; and sister, Karen.
He is survived by sisters, Ellen Luntsford, Sandi Kellar, Cheryl Irwin and Kathy Barton; and his best friend and daughter, Chayce Jordyn Phillips.
A celebration of life will be held from 2:30 to 4:30 p.m. Sunday, March 17, 2019 at 201 Seventh St.,  Umatilla, past the Umatilla Senior Center.
Leave an online condolence for the family at www.burnsmortuaryhermiston.com.
Burns Mortuary of Hermiston is in care of arrangements.