The C announced that Judge Daniel Hill is the Distinguished Alumnus for 2017-18.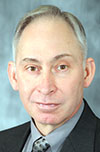 For the last three years, nominations for this recognition were open in November and the alumnus announced in May. The process changed this school year to provide the alumnus an opportunity to serve as a mentor to students since the start of the school year.
On April 13, Judge Hill will be at Hermiston High School, he will meet with the administrative team, students that are part of the Leadership Class and various student groups. High school seniors will have an opportunity to ask questions about his career.
On Thursday, June 7, Hill will be a featured speaker at the HHS commencement ceremony scheduled to begin at 7 p.m., at the Toyota Center in Kennewick.
In January 2005, Hill began serving as the Circuit Court Judge in the Sixth Judicial District for Umatilla and Morrow counties in the Oregon Judicial Branch. Hill is a Brigadier Army General, assistant to the Chief Counsel, National Guard Bureau and National Guard Adviser to the Judge Advocate General of the U.S. Army.
Hill graduated from Hermiston High School in 1979. In 1981, he obtained his associate's degree from Blue Mountain Community College, obtained his bachelor's degree from Oregon State University in 1983, and in 1986 obtained his Juris Doctorate from the Willamette University School of Law.