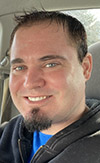 Justin Richard Waddell passed away on Feb. 04, 2020 in Hermiston at the age of 35.
He was born on May 9, 1984 in Hermiston.
Justin was a lifetime resident of the Umatilla-Hermiston area. Justin lived with his father, Richard Dorn Waddell, until his father's passing on July 19,1996. Justin and his brother Mathew then became part of the Larry and J. Deane Coombs family.
Justin was undeniably the proud father of four beautiful children, Makaiyla, Kamri, Kaden and Kloie. Justin loved the outdoors, exploring and creating new adventures. Justin also enjoyed going to concerts and special events, where he had the opportunity to meet some of his favorite actors.
Justin is survived by his longtime partner, Ashley Riley; his mother, Laurie Ann LeGrand; his grandmother, Hattie Bechler; his parents, Larry Coombs and J. Deane Coombs; his brothers, Mathew Waddell, Nathen Waddell and Jamie Coombs; his sisters, Ashley Ayres and Michelle LeGrand; his four children, Makaiyla Waddell, Kamri Waddell, Kaden Waddell and Kloie Waddell; his aunt, Trina Parish Waddell; and his uncle, Tom Waddell.
Justin was preceded in death by his father, Richard Dorn Waddell and his grandfather, Charles Robert Bechler.
Services will be held at the Hermiston Assembly of God Church, 730 E. Hurlburt Ave. on Thursday, Feb. 13, 2020 at 11 a.m.
To leave an online condolence for the family, please go to www.burnsmortuaryhermiston.com.
Burns Mortuary of Hermiston is in care of arrangements.