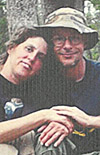 Kelly Lynn Sturm of Hermiston passed away in Hermiston on Feb. 17, 2021 at the age of 57.
He was born on July 17, 1963 in Boise, Idaho to Perry and Linda (Moore) Sturm.
Kelly grew up and attended school in Boise, Idaho. After high school he stayed in the Boise area, where he worked in grocery stores and restaurants. He moved from Boise to the Hermiston area in 2008. While living in Hermiston he worked as a manager of the One Stop Mart off Highway 395 in Hermiston.
Kelly enjoyed fishing, hiking, camping and going to hot springs.
Kelly married Bette Bithell in Hermiston on June 13, 2008.
He is survived by his wife, Bette; daughter, Heather Sturm; son, Andrew Sturm; stepsons, Kurtis and Kial Haskett; brothers, Brent (Tracy) Sturm and Gary Sturm; and sisters, Gloria Sturm and Vonda Snyder.
He was preceded in death by his parents.
No services are planned at this time.
Burns Mortuary of Hermiston is in care of arrangements.