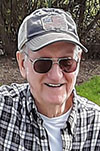 Kenneth Wayne McNair passed away at his home in Hermiston on Aug. 19, 2022 at the age of 90.
He was born on Nov. 4, 1931 in Myrtle Point to Leland Ross McNair and Marie Barzee McNair.
He attended grade school in Myrtle Point. His family moved to Ontario, where he graduated from Ontario High School. Ken was a veteran and served in the Army two years, 1955-1957 at Fort Richardson in Anchorage, Alaska as a mechanic.
On April 7, 1957, he married Bonnie Jean Berry and they lived in Hermiston for two years, then moved to Springfield, where Ken worked for Dow Corning until his retirement in 1988. They sold their home and traveled full time for the next six years throughout the lower 48 states, and then settled in Echo for the next 28 years. They had just returned to Hermiston, three months prior to his passing.
Ken enjoyed fishing, camping, woodworking and traveling, but his greatest enjoyment was when he was flying in his Cessna, 9 77 Tango. He was a member of Hermiston Assembly of God for 28 years and enjoyed working on projects, especially at Cornerstone Preschool with Miss Sandra.
He is survived by his wife of 65 years, Bonnie Jean; daughters, Deborah McNair of Hermiston, Susan Lo; son, Kevin (Tricia) McNair; six grandchildren, Stephen, T.J., Andrew, Matthew, Serena and Shanna; six great grandchildren, Drake, Seth, Kiara, Issac, Atilla and Abigail; one great-great grandson, Ian, all of Minnesota; sisters, June Jones of Pendleton and Katherine Lorance of Pasadena, Calif.; brother, Robert (Nancy) Henry of Hermiston; and numerous nieces and nephews.
He was preceded in death by his parents; brother, Brucie Henry; stepfathers, Bruce Henry and Wilson Beshears; and great granddaughters, Sofia and Jasmine McNair.
A funeral service will be held at 10 a.m. on Saturday, Aug. 27, 2022 at the Burns Mortuary Chapel.
A private burial will be in the Hermiston Cemetery.
Memorial contributions can be made to Vange John Memorial Hospice.
To leave an online condolence for the family, please go to burnsmortuaryhermiston.com.
Burns Mortuary of Hermiston is in care of arrangements.