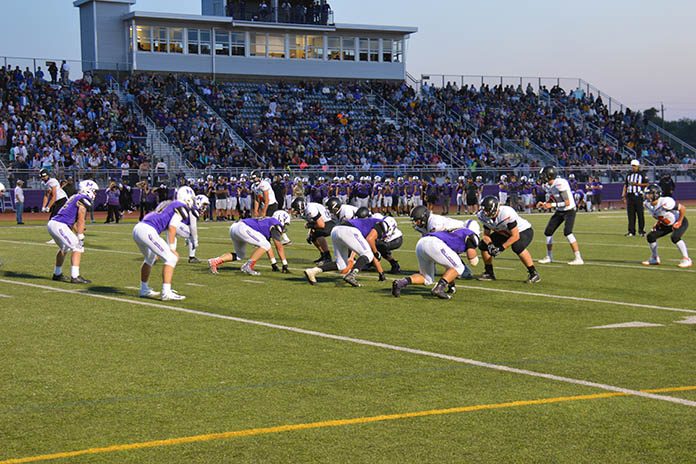 A back-and-forth battle at Kennison Field Friday night ended with the visiting Kennewick Lions edging the Hermiston Bulldogs, 26-25, in a Mid-Columbia Conference matchup.
Trailing by six with just under 6 minutes to go in the game, the Lions marched 80 yards downfield and scored the winning touchdown on a 15-yard run with 4:13 left in the game.
The Bulldogs still had time to regain the lead and proceeded to move the ball, eventually setting up a 38-yard field attempt that missed the mark after a high snap. The win was the first of the season for the Lions (1-2) and the loss was the first of the season for the Bulldogs (2-1).
The Lions had forced a safety on Hermiston earlier in the fourth to tie the game at 19. On their next possession, Hermiston mixed both passes and runs to set up a 13-yard touchdown run by quarterback Andrew James. After missing a pair of extra points earlier in the game, Hermiston went for the 2-point conversion, but it was unsuccessful, giving the Bulldogs a momentary 25-19 lead.
Hermiston scored first in the game on a 21-yard pass from James to Jordan Ramirez. Five minutes later, Kennewick tied the game on a 10-yard touchdown run by Ethan Padilla.
James had a touchdown run nullified by a holding penalty late in the first quarter, but on the next play, he found Youbani Razon in the end zone to give Hermiston a 13-7 lead.
Kennewick kicked a field goal to cut it to 13-10.
The play of the game came with Kennewick still trailing by 3 in the third and facing fourth-and-long. A fake punt turned into a score when punter Talon LaFontaine connected with quarterback Blaine Chavez on a 43-yard touchdown pass to put the Lions up 17-13.
With less than 2 minutes left in the third quarter, Wyatt Noland scored on a 25-yard touchdown run to give Hermiston a 19-17 lead.
The Bulldogs will be on the road next week to take on Walla Walla, who lost to Chiawana Friday, 48-3.