The Stanfield School District has a new superintendent and elementary school principal.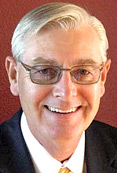 Wayne Kostur will serve in both capacities for the 2013-14 school year. Kostur takes over for Kevin Headings, who was named the new principal at West Park Elementary School in Hermiston.
Kostur served as superintendent for school districts in Rainier and Molalla for 15 years. Prior to that, he served as a school principal in Adrian, Athena and Rainier. He has also taught general, vocal and instrumental music in grades 1-12 in Oregon and Texas for 11 years.
He has served on the Oregon School Activities Association, the Confederation of Oregon School Administrators and the Special Districts in Oregon. Kostur has also officiated high school football, basketball and baseball.
Away from school, Kostur said he enjoys golf, fishing and reading.
Headings served as Stanfield Elementary School principal since August 2005 and had served as superintendent of the Stanfield School District since January 2010 before being named the principal at West Park in April.