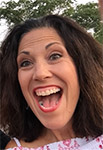 Maureen M. Roxbury of Pasco, Wash., longtime Umatilla resident, died on May 31, 2021 at her home in Pasco, Wash. at the age of 54.
She was born on June 11, 1966 in Clarksville, Tenn. to Thomas and Darle Louise Schwegler Davis.
Maureen was raised in Hermiston, graduating from Hermiston High School in the class of 1984. She then attended the University of Oregon and Portland State before returning to Hermiston. Maureen lived for many years in Umatilla, where she raised her children and worked for ODFW and CSEPP (Umatilla Chemical Depot), and owned KISS (Keep It Simple Suppers). She was a clogging instructor, a cheer coach and Mary Kay consultant for several years. She most recently worked as a safety coordinator at Hanford in Richland, Wash. and had lived in Pasco, Wash. for the last seven years.
Maureen married John Kimsey on July 4, 2015 in Pasco, Wash. She enjoyed music concerts, gardening and going to the beach, and was a Disney enthusiast (including performing at Disneyland/World multiple times with her clogging team). Maureen cherished family gatherings and most of all becoming a grandma. She had many special four-legged companions over the years, including Wall-e and Olaf.
She is survived by her husband, John Kimsey, Pasco, Wash.; son, Marshall Roxbury (Amanda Zaragoza), Hermiston; daughter, Devon Roxbury (Chris Larsen), Portland; sister, Theresa Crim (Clay), Boise, Idaho; brothers, Mark Davis, Vancouver, Wash., Tom Davis (Lori), Hermiston, Mike Davis (Deb), Portland and Tim Davis (Willow), Endicott, N.Y.; granddaughter, Aenea; and numerous aunts, uncles, nieces, nephews and cousins.
Maureen was preceded in death by her parents.
A celebration of life gathering will be held on June 12, 2021 at 11 a.m. at My Garden Over Floweth, 33512 W. WA-14, Paterson, Wash.
Please share memories of Maureen with her family at burnsmortuaryhermiston.com.
Burns Mortuary of Hermiston is in care of arrangements.