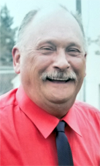 Michael E. "Mike" Roberts of Hermiston died on March 11, 2019 in Hermiston at the age of 61.
He was born on Feb. 13, 1958 in Americus, Ga. to Norvin and Joan Brabrant Roberts.
Mike was raised and attended schools in Snover and Marlette, Mich. before the family moved to Great Bend, Kan., where he graduated high school in the class of 1976. He worked for a time at Marlette Homes and then for a cable company before going to work as a carman for Union Pacific Railroad in Hermiston. Mike married Frances A. "Fran" Williams on Aug. 8, 1994 in Umatilla. He worked his way up with Union Pacific Railroad at Hinkle Yard to become car foreman and also served as regional safety coordinator for a time.
He was a member of New Beginnings Christian Fellowship in Hermiston. Mike served as a volunteer fireman and EMT in Umatilla for several years. He was a baseball and softball umpire for both youth and adult leagues for many years. Mike was an avid hunter and loved spending time at the cabin in the mountains mushroom picking. He enjoyed fishing, camping, playing pool and barbequing. Mike cherished spending time with his family, always looking forward to family game night.
He is survived by sons, Johnny Pollick (Tiffany) and Parry Dunaway, both of Hermiston; daughters, Sandy Francis (RJ), Stanfield, Melissa Watson (Lonnie), Holyrood, Kan., Tasha Workman (Craig), Hermiston and Reanna Roberts, Hermiston; father, Norvin Roberts (Rosemary), Hermiston; brothers, Terry Roberts, Hermiston and Larry Cox, Petaluma, Calif.; sisters, Dawn Roberts, Portland and Robin Elkins, Barrow, Alaska; grandchildren, Kaitlin, Kyle, Kasey, Breann, Royce, Reagan, Camran, Amanda, Brandon, Jason, Sam, Emma, PJ, Brody, William, Hanah, Kamren, Jasper, Kaiden, Zander, Cyrus, Kristen, Sabrina
and Vanessa; 10 great grandchildren; and numerous aunts, uncles, nieces, nephews and cousins.
Mike was preceded in death by his wife, Fran Roberts and his mother, Joan E. Roberts LaPlant.
A celebration of life service will be held on Wednesday, March 20, 2019 at 11 a.m. at Burns Mortuary Chapel, Hermiston.
Those who wish may make contributions in Mike's name to Burns Mortuary of Hermiston, P.O. Box 289, Hermiston, Ore., 97838.
Please share memories of Mike with his family at burnsmortuaryhermiston.com.
Burns Mortuary of Hermiston is in care of arrangements.