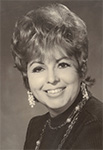 Minerva L. "Minnie" Bethel of Hermiston died on Oct. 3, 2021 in Hermiston at the age of 79.
She was born on Jan. 25, 1942 in Monterey, Nuevo Leon, Mexico to Tomas Garcia Gomez and Irene Mata Gomez.
Minerva was raised in Texas and Grandview, Wash., graduating from Big Bend Community College in Moses Lake as a licensed practical nurse. She worked at the Othello Hospital, and Good Shepherd and Regency in Hermiston.
Minerva was united in marriage to Lynn Bethel on Aug. 5, 1977 in Hermiston. She enjoyed gardening, animals, sewing, music and cherished family gatherings.
She is survived by her husband of 44 years, Lynn Bethel; children, Leticia "Letty" Little and husband Bob, John Guel and wife Beatrice, Jason Bethel and wife Claudia, Thomas Bethel and Richard "Ricky" Bethel; nine grandchildren; 12 great grandchildren; and numerous nieces and nephews.
Minerva was preceded in death by her parents and a daughter, Elizabeth "Betsy" Miles.
A graveside service will be held on Friday, Oct. 15, 2021 at 11 a.m. at the Hermiston Cemetery.
Those who wish may make contributions in Minerva's memory to Fuzz Ball or St. Jude's Hospital for Children.
Please share memories of Minerva with her family at burnsmortuaryhermiston.com.
Burns Mortuary of Hermiston is in care of arrangements.