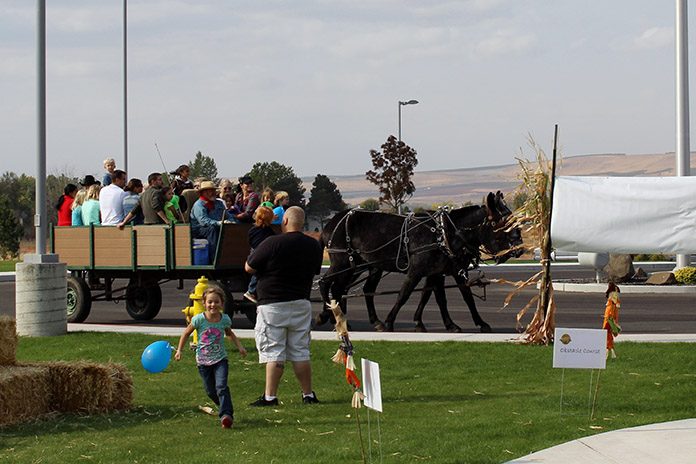 The fifth annual Morrow County Harvest Festival is coming to the SAGE Center on Saturday, Oct. 6 from 9 a.m. to 4 p.m.
The event is presented by the Boardman, Heppner and Irrigon chambers of commerce in conjunction with the SAGE Center and will be held at 101 Olson Road in Boardman.
The Morrow County Harvest Festival will feature a variety of vendors with high-quality, regionally-produced agricultural goods and handmade artisan crafts.
Some activities that will be returning again this year are the horse-drawn wagon rides from 10 a.m. to 4 p.m. and the local beer and wine tasting from 12 p.m. to 4 p.m.
Kids' Corner activities will include a giant 53-foot inflatable obstacle course, animal corral, carnival games, face painting by Vivid Imaginations Professional Face Painting, and of course, the beloved pumpkin painting.
Threemile Canyon Farms will provide an opportunity for attendees to "fill-a-bag" full of locally-grown produce at the second annual Harvest Bounty for Youth in Agriculture. In exchange for a small donation to local 4-H and FFA programs, people will receive a grocery bag to pack full of potatoes, onions and sweet corn.
Activities at the Morrow County Harvest Festival are free for the public to participate in, thanks to the generous donations made by Threemile Canyon Farms, Kiwanis Club of Boardman, Lamb Weston, Tillamook, Boardman Foods Inc., Murray's Drug, and the River Lodge and Grill.
For more information about the event, please visit the Morrow County Harvest Festival event page on Facebook, go to the SAGE Center website, or call the SAGE Center at 541-481-7243.