Hermiston School District Athletic and Activities Director Larry Usher announced that he will recommend that the school board consider Maloree Moss for the girls' basketball head coach position, at its regular board meeting on July 8.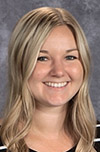 Moss is currently a business education teacher at Hermiston High School and is not new to the coaching world. She has been the assistant varsity basketball coach for the past three seasons, the head JV volleyball coach in 2017, and head freshman volleyball coach in 2016.
"I am excited for the opportunity to serve as the head girls' basketball coach," said Moss. "It's quite an honor, and I look forward to exposing HHS girls to the love of basketball and teaching them skills to be a winner in all aspects of life. I want to create a family environment where they can share the successes and failures of the team on the court, in the classroom, and in life."
Usher said he looks forward to Moss running the girls' basketball program.
"Maloree is a natural coach that brings a passion for the sport and is a perfect fit," said Usher. "She has the skills and understanding to build the types of relationships with our kids that we are looking for."