A chance meeting on a local radio show has led to the creation of a mural depicting Hermiston that is displayed at the Hermiston Airport.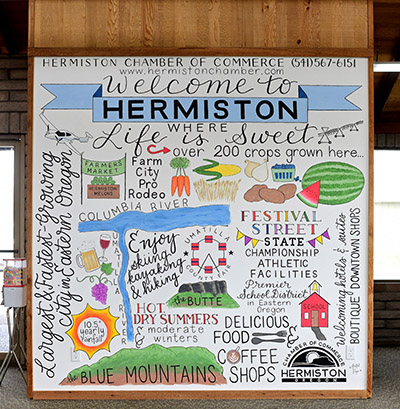 Hermiston Chamber of Commerce CEO Kimberly Nevil said the mural came about due, in part, to Chamber member Kris Bennett being on a KOHU radio show, Chamber Connection, with Rolf Anderson Leirvik of Gorge Aviation Services.
Through some discussion and networking, the name Lisa Peppard was brought up – a local Tri City artist and owner of Artful Virgo in Kennewick, Wash., said Nevil. The Hermiston Chamber of Commerce hired Peppard to paint the infographic at the airport that shows off the Hermiston community – the fastest growing town in Eastern Oregon.
The mural includes local aesthetics such as the Hermiston Butte and Blue Mountains as well as various crops grown, and activities to do in Hermiston.
"The mural is a great addition to the expansion of the regional airport and the Hermiston Chamber of Commerce is thankful for the beautiful artwork that is proudly displayed for community members and visitors to see," said Nevil.