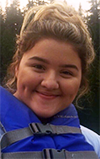 Natalya Marie "Tally" Martinez of Hermiston died on Feb. 2, 2019 in Olympia, Wash. at the age of 16 as the result of an automobile accident.
She was born on Aug. 8, 2002 in Hermiston to Dianna Navejar and Michael Martinez Sr.
Natalya grew up in the Hermiston and Stanfield area where she attended Stanfield Elementary, Armand Larive Middle School, and was currently attending Hermiston High School as a junior. Natalya was a lover of pets and fashion, and enjoyed dancing and listening to music. She was funny, outgoing and vivacious, but also introverted and introspective. She was a symbol of power, beauty and grace. She always showed a fierce loyalty to her family and friends. We will always remember her infectious smile, piercing eyes and loving personality. Her presence in our lives will be greatly missed.
She leaves behind her parents, Dianna Navejar and Michael Martinez; sister, Marissa Navejar (Cody); brothers, Jordan Serrato (Jasmine) and Michael Martinez; grandparents, Josie Correa and Tony Navejar (Irasema); uncles, David Navejar and Danny Navejar (Chela); aunt, Sonia Nash (Cory); cousins, Brecella Nash, Brennin Nash, Aviana Navejar and Jacoby Navejar; grandmother, Carol Chavez and grandfather, Jose Mario Martinez; uncles, Raymond and Anthony Hughes, Troy Pastora, Albino and Jose Mario Jr. Martinez; aunts, Jody Kipp and Melissa Martinez Benavidez; and many other aunts, uncles and cousins.
Natalya was preceded in death by her great grandparents, Cruz and Juanita Correa; great grandmother, Santana Mariana Navejar; great grandparents, Isidro F. Martinez and Francisca Salinas Martinez; great uncles, Porfirio and Reymundo Correa and Paul Pastora; and great aunts, Petra Hines, Luisa Rodriguez and Toni Hamilton.
Viewing will be held on Thursday, Feb. 7, 2019 at 3 p.m. with Recitation of the Rosary following at 7 p.m. in the chapel at Burns Mortuary of Hermiston.
Mass of Christian Burial will be held on Friday, Feb. 8, 2019 at 2 p.m. at Our Lady of Angels Catholic Church, Hermiston.
Burial will follow at the Hermiston Cemetery.
Please leave online condolences for Natalya's family at burnsmortuaryhermiston.com.
Burns Mortuary of Hermiston is in care of arrangements.