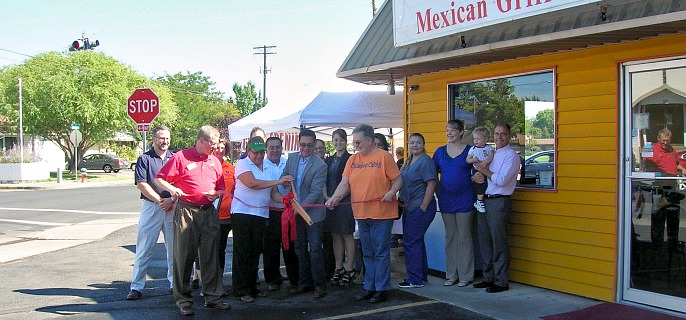 The Hermiston Chamber of Commerce held a ribbon-cutting ceremony Friday to celebrate the opening of Rio Express Mexican Grill, a new family-owned-and -operated restaurant.
Restaurant owner J. Antonio "Tony" Mejia, a Hermiston native, has been living in St. George, Utah, but decided to start a business venture in his hometown. His parents, Antonia and Cesarro Mejia, run the restaurant, which opened in late July.
"It was quite a challenge flying out every couple weeks to get it set up," he said. "Someday I'll be back in Hermiston."
Rio Express Mexican Grill offers the staples of Mexican cuisine, including quesadillas, tortas, veggie and meat tacos, and their signature meal, the "taco loco" – a double tortilla with onions, bell peppers, choice of meat, and melted cheese.
In the true spirit of a grill restaurant, the Mejias opened the kitchen so that customers in the dining area can see their food being made.
Patrons have the option of dine-in or take-out. Call 541-314-3845 to place an order.
Rio Express Mexican Grill is located at 705 West Orchard Ave. Business hours are Monday through Saturday, 10:30 a.m. to 8 p.m.
For up-to-date information on specials and events, visit the Rio Express Mexican Grill Facebook page.