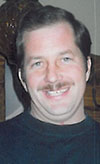 Nicholas "Nick" Kauffman of Umatilla passed away in Richland, Wash., on Friday, Sept. 27, 2019 at the age of 59.
He was born Jan. 10, 1960 in Salem to Samuel and Patricia (Fitzner) Kauffman. As a child, Nick lived in the Willamette Valley of Oregon. He later moved to Prineville where he attended high school. After high school, he served in the U.S. Army for three years. He then returned to Prineville for a short time. He has lived in the Umatilla and Irrigon areas for more than 30 years. He worked as a mechanic and a welder in Eastern Oregon throughout his career.
Nick enjoyed making things go fast – motorcycles, 4 wheelers, dune buggies, go carts, cars and trucks. If it had wheels and an engine he enjoyed making them go fast.
He is survived by his daughter, Andrea; grandchildren, Gaven and Jocie Elwood; sister, Rebecca Johnson; brothers, Steven, Charlie and Andrew Kauffman; many nieces, nephews, cousins and extended family members; and his significant other, Elaine Clubb.
He was preceded in death by his parents.
A celebration of life will be announced at a later time. Burns Mortuary of Hermiston is in care of arrangements.
To leave an online condolence for the family please go to www.burnsmortuaryhermiston.com.