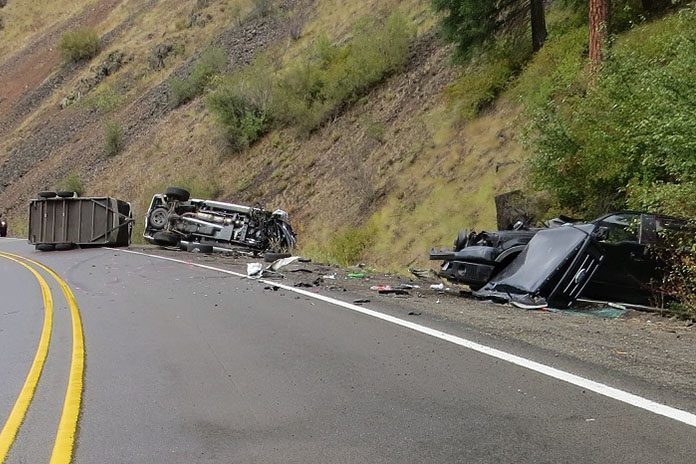 A three-vehicle collision in Wallowa County on Wednesday left one child dead and another seriously injured.
According to the Oregon State Police, a Ford F150 pickup operated by Christy Erickson, 31, from La Grande, with two child passengers, was eastbound negotiating a curve on State Route 82 when her vehicle left her lane of travel and sideswiped an oncoming Subaru Outback operated by Mary Importico, 31, with passenger Ryan Importico, 32, both from Portland. The collision caused the Ford to continue to the left into the oncoming lane and nearly struck head-on a Dodge Ram pickup pulling a trailer. The Dodge was operated by Colby Rimmer, 25, with passengers Daniel Rimmer, 53, Michael Cramer, 41, and John Kraus, 38, all from California.
The accident occurred around 10:30 a.m. near milepost 38.
All three occupants from the Ford were transported to the Wallowa County Hospital where one child passenger was pronounced deceased at the hospital. The second child passenger was transported by air ambulance to a Boise Hospital. Erickson was treated and released for her injuries and no others were transported for injuries.
State Route 82 was closed for approximately five hours and one lane opened up for three hours while the on-scene investigation was conducted.
OSP was assisted by the Wallowa Fire Department, Enterprise Ambulance, Wallowa County Sheriff's Office, Enterprise Police Department, and Oregon Department of Transportation.