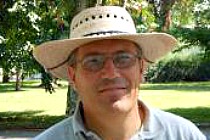 Efforts are under way to create a Don Horneck Memorial Scholarship Fund.
Horneck, an Oregon State University extension agronomist, died unexpectedly on Sept. 28.

"He was a tremendous resource these past 15 years for the region's agricultural producers, fieldmen, agricultural-based companies and more, said Phil Hamm, director of the Hermiston Agricultural Research & Extension Center (HAREC). "He was also a great colleague and friend to countless others."
Hamm said many people inquired about contributing to an OSU memorial scholarship fund in Horneck's honor. Hamm and others are working with Horneck's wife, Vicki, to create the fund.
"We need to raise a minimum of $25,000 to endow the account," said Hamm. "Once sufficient funds are received, interest income will be used to support graduate or undergraduate students in agronomy or soils at Oregon State University."
Criteria for the scholarships will be developed and Vicki Horneck has agreed to be part of the committee that would make the yearly selection.
Contributions to this account can be made online by going to the OSU Foundation website, or by mailing them to OSU Foundation, 850 S.W. 35th St., Corvallis, Ore., 97333-4015. Specify in the memo line that the contribution goes to the Don Horneck Memorial Scholarship Fund. but make the checks out to OSU Foundation.
For more information, call Hamm at 541-567-8321.
More Stories from Northeast Oregon Now:
BMCC Teams Up with OSU, UI for Canola Study
The Cost of Safe Drinking Water
Motorcyclists Find Lost 14-Year-Old Hunter