Patsy Loraine Beck Phillips, 81, of Hermiston died on Saturday April 27, 2013 in Hermiston.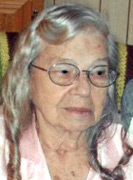 She was born on February 23, 1932 in Thornton, Wyo., to Marion and Susan Beck. She moved to Milton-Freewater in 1938. She met her husband for the first time in the eighth grade at Ferndale.
She graduated high school in 1950 from Mac High in Milton-Freewater.
She married Earl Richland Phillips in 1952 and had their daughter Marlene in 1954. After graduation she worked as a telephone operator, at JC Penney's, Smiths Frozen Foods, and Jensen Motel. When she moved to Hermiston she worked at Marlette in the Drapery Department for 13 years, then at Lamb Weston. During the years that she worked at the Cozy Corner and Pheasant Café she had the opportunity to meet and make many friends. She was a longtime member of the Eagles Lodge. Patsy always found good in everyone and taught us all so much. You have touched and blessed many people and will be missed by all. I will love you forever Mother love always your daughter Marlene.
She is survived by daughter Marlene Conner of Hermiston; grandson, Patrick Conner of Boardman; 2 great grandsons Nathan and Daniel Conner of California; brother Dale Beck of Milton-Freewater; She was preceded in death by her husband Earl Richard Phillips.
Memorial Service will be held on Friday May 3, 2013 at 1 p.m. at the Hermiston Eagles Lodge at 160 NW Second St., Hermiston.
Please sign the condolence book at burnsmortuaryhermiston.com
Burns Mortuary of Hermiston is in care of arrangements.