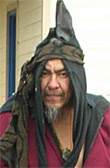 Peter "Pete" Villarreal Diaz of Portland died on May 22, 2021 in Portland at the age of 64.
He was born on Oct. 15, 1956 in Auburn, Calif.
He is survived by his father, Medardo Villarreal; siblings, Juan, Irma, Isidoro, Jesus (Chuy) and Alma; and numerous nieces and nephews.
Pete was preceded in death by his mother, Frances Villarreal; sister, Antonia Villarreal; and grandparents, Dolores Delgado, Guillermo Diaz, Petra Garcia and Isidoro Villarreal.
Services were held on Wednesday, June 2, 2021.
Please share memories of Pete with his family at burnsmortuaryhermiston.com.