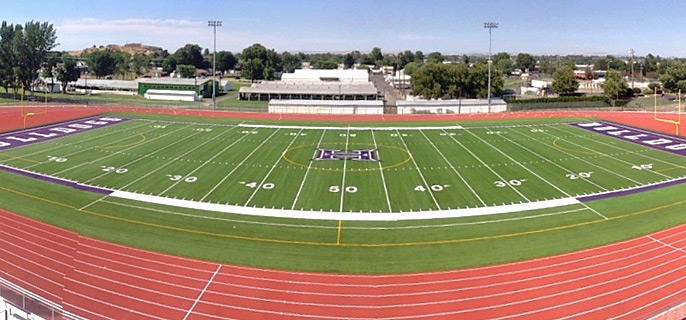 The public is invited to attend the grand opening of the newly-renovated Kennison Field Complex at Hermiston High School on Friday, Aug. 23.
The ceremony will begin at 6 p.m. at the entrance to the stadium along Highland Avenue. Activities scheduled for the evening event include:
• 6:00 pm – Welcome, introductions, and ribbon-cutting ceremony
• 6:30 pm – Open house & informal facility tours
• 7:00 pm – Introduction of fall high school programs
• 7:20 pm – Football and soccer scrimmages
• 8:00 pm – Marching band performance
Hermiston School District officials said the renovation project, funded entirely by grants, donations, and in-kind support, represents a landmark accomplishment for the community of Hermiston and greater Eastern Oregon region. More than $3 million in grants and nearly $1.4 million in local donations and in-kind support helped deliver a state-of-the-art athletic facility for local and regional student and community athletes.
"This has been the most rewarding construction project I have ever been a part of," said Wade Smith, deputy superintendent and project lead. "The enthusiasm from our community, students, and stakeholders is nothing short of remarkable. This project, like so many others, continues to highlight the outstanding people in our community who continue to bring a 'can do' attitude, when it comes to supporting our youth and economic development."
The renovated complex features the following components:
• One of the highest quality, safest, and most durable synthetic turfs available (designed to accommodate football, soccer, and lacrosse)
• Olympic-caliber synthetic track with individual jumping and throwing stations
• Enhanced 2,100 capacity bleacher system for optimal spectator comfort, featuring a comprehensive raised ADA/wheelchair accessible seating section, over 250 contoured reserved stadium seats with backs and armrests, and an additional 250 seats with backrests
• Elevator accessible, five-story tall, seven-room press/announcers box with additional video production booth built to meet requirements to host state-level events in Hermiston
• Comprehensive three-bay concessions and Booster Spirit Booths to meet community and spectator needs
• 1,600-square-foot covered gazebo and barbeque plaza
• Improved parking, lighting, ingress/egress, and pedestrian safety for spectators and handicap patrons