The Blue Mountain Community College Board of Education has appointed Don Rice of Hermiston to fill a vacant position for Zone 5 on the Board.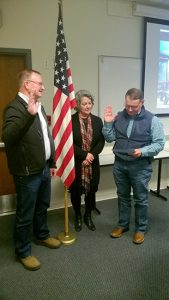 Rice replaces Eddie De La Cruz of Hermiston, who resigned from the Board last year. Board Chair Chris Brown swore Rice into the position during the Board of Education's Nov. 8 meeting in Milton-Freewater.
Rice's appointed term lasts through June 30, 2019, at which time he would need to run for re-election to retain the position. Rice's zone includes precincts in east Hermiston, including precincts 103, 126, 127 and 128.
Rice is the director of North American Operations for GreenWood Resources in Boardman. He has a bachelor's degree in agricultural engineering from Washington State University. He and his wife, Fran, have six children, all of whom utilized the community college system, two of them at BMCC. Five of his children have bachelor's degrees, while the sixth is currently a senior.
Rice has volunteered as a member of numerous boards of directors throughout eastern Oregon, and said he is "honored" to serve on the Board of Education for BMCC.