After a fierce and hard-fought battle, a champion has been crowned in the Hermiston Battle of the Books competition.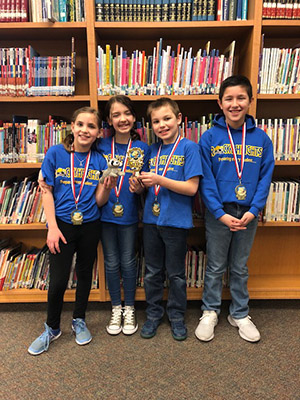 Hermiston School District elementary schools took part in the competition in which teams of four students work together and read 16 books. The teams then take part in a tournament in which they are quizzed about the books they read.
Megan Reeve, library media specialist for the Hermiston School District, said the district's elementary schools held their own tournaments in January and February to determine each school's top team. Those teams consisted of Desert View's Chamber of Books, Highland Hills' Tales of the Readers, Rocky Heights' Book Bombers, Sunset's Fantastic Wonders, and West Park's Wildcat Bookworms.
Those five teams then competed on March 9 to crown the district champion. This year's winner was the Rocky Heights team, the Book Bombers. Team members Catherine Doherty, Eleanor Larsen, Glyn Lystrup and Caden Lloyd have been on the Book Bombers team for the past three years.
"All teams in our district worked hard and we are so proud of them," said Reeve.