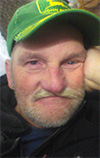 Roderick Lee "Rod" Klucas of Umatilla passed away on Jan. 21, 2023 in Richland, Wash. after a long battle with cancer at the age of 66.
He was born on Feb. 12, 1956 in Watertown, S.D.
Rod lived in South Dakota and worked at McCains for 27 years and married Robyn Eynon on Jan. 30, 1988. They moved to Oregon in 2008, where they have lived since.
Rod enjoyed anything John Deere, model cars, watching the barges on the river, visiting with neighbors, playing jokes and helping people. He was a friend to everyone and didn't know a stranger.
He is survived by his wife, Robyn; daughters, Chrysta and Stephanie; son, Austin; sister, Sylvia; mother-in-law, Christine Harding; and many nieces, nephews and in-laws.
Rod was preceded in death by his parents, Donald and Marie; brothers, Leo and Dale; sister, Hazel; father-in-law, Keith Harding; niece, Marcia; and special daughter-like friend, Kayla.
A celebration of life service will be held on Saturday, Feb. 18, 2023 at 1 p.m. at Burns Mortuary Chapel, Hermiston.
Please share memories of Rod with his family at burnsmortuaryhermiston.com.
Burns Mortuary of Hermiston is in care of arrangements.