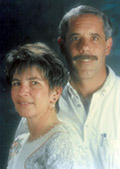 Roger and Ruth Frances of Umatilla passed away together in Umatilla on Sunday May 12, 2019
Roger was born April 17, 1952 in Honolulu, Hawaii the son of Wallace and Loretta (Jackson) Frances. He was 67 years of age.
Ruth was born September 16, 1950 in Oakland, CA the daughter of Albert and Helen (Skelton) Gonyo. She was 68 years of age.
The couple were united in marrige on November 28, 1987 in Santa Rosa, Calif. They moved to Umatilla in December of 1987 when Roger began working for the city of Umatilla as their public works superintendent. He retired in 2013 after twenty six years of employment. Ruth worked as a housekeeper at the Tillicum Inn for fifteen years.
The couple enjoyed riding motorcycles together and watching sports events together (Ruth was a San Francisco Giants and 49ers fan and Roger was a Dallas Cowboy's and Giants fan). Roger also enjoyed working on cars, hunting, fishing, being in the outdoors and was an avid golfer. He was a member of the Kiwanis Club and the Chamber of Commerce in Umatilla. Ruth also enjoyed bowling and playing softball.
They are survived by their children: Cheri Frances of Santa Rosa, CA, Tamara (James) Purves of Hermiston, Joe (Kristine) Smith of Los Angeles, CA, and Deanna Beith of Reno, NV; Rogers sister, Lindsey Mitchell of Vallejo, CA; Ruth's siblings, Jeanine Adams and Ted Stahl; seven grandchildren; and three great grandchildren; many extended family members and close friends.
A Celebration of life service will be announced at a later time. Burns Mortuary of Hermiston is in care of arrangements.
To leave an online condolence for the family please go to www.burnsmortuaryhermiston.com.