Hermiston School District Athletics and Activities Director Larry Usher announced that Megan Bunn will be the next Hermiston High School volleyball coach.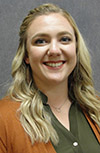 A meet and greet for prospective players and families will be Wednesday, at 6 p.m., in the HHS main gym.
Bunn will be coming to Hermiston from Eastern Oregon University, where she was an All-American volleyball player and then an assistant coach to a program that competed at the national tournament. Bunn was the 4A State Player of the Year in Oregon at Banks High School and won a high school state championship.
"Coach Bunn has been successful in volleyball everywhere she has been," said Usher. "We are confident she will bring that competitive spirit to the Dawg House every day."
Bunn will replace Becky Wadekamper, who recently stepped down.