Flooding continues today on many highways in Eastern Oregon with many remaining closed due to high waters and debris.
Crews are out removing debris and assessing damage, and based on what they find, there may be longer closures.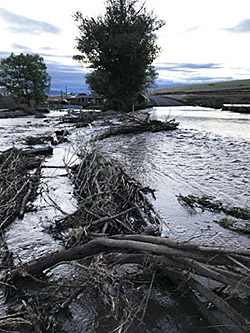 Current Updates
OR 244 – (Hilgard-Ukiah) MP 47 to 44, closed, and pilot cars will take traffic through later this morning
OR 237 – (La Grande-Cove) MP 2, closed, water over highway in places (local detour in place)
OR 237 – (Cove-Union) MP 19, water over the highway in places and signs are out slowing traffic
OR 402 – MP 2-4, closed
OR 244 – MP 1-17, closed
U.S. 395 MP 15-17, closed
Other roads are experiencing high water. Drivers are urged to be alert, and never drive through high water.