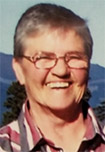 Shelia Marie Oran, 77, passed away in Goldendale on June 29, 2021.
Shelia was born in Lynwood, Calif. on Oct. 13, 1943 and was raised from 3 months old by L.G. and Josephine Fullerton.
Shelia's early years were spent in Milton-Freewater near her grandmother, Zelma Poyser, whom she dearly loved. The family also lived in Echo, Walla Walla, Wash. and Williams. She had one biological sister, Onna Jeaniene Oran, who preceded her in death and was mother to Shelia's one nephew and five nieces. She was raised with Mary Fullerton Cox, who currently lives in Goldendale, and Danny Fullerton, who has passed away. Shelia has one son, John Morris, who lives in Tacoma; three grandchildren, Alexis, Samantha and Jax; and two great grandchildren.
Toni, as Shelia would prefer to be called, had several interests: collecting interesting rocks from places where she traveled with her sister Mary, framing the jigsaw puzzles she completed, capturing beautiful sunsets and scenery with her camera, and driving her Subaru. In her younger days, Toni liked camping, swimming, horseback riding, and playing card games and Scrabble. Her favorite activity was playing softball in the women's league where, during one game as the shortstop, she made a triple play!
Working at many different places, including Lamb Weston, Zenner's Sausage in Portland, Gresham Auto Detail, Sodbuster's Restaurant, and managing the Simcoe Hills Apartments, she was a very reliable, detailed and quality-oriented worker.
Toni attended The Praise Barn in Goldendale, where she accepted the Lord as her Savior and was baptized in the Columbia River by Pastor Woody Lovelace. More recently she attended the River of Life Church with Pastor Rod and Cathy Smith.
A fun-loving and caring person, Toni loved the Lord with all her heart. There was nothing she liked more than to praise God in church, talk about Jesus, and attend Bible studies. Toni was dearly loved by many.
A graveside burial will be held at 10 a.m. on Friday, Aug. 6, 2021 at the Echo Cemetery.
Her memorial service will be held on Saturday, Aug. 7, 2021 at 10 a.m. at the River of Life Church in Goldendale, 2023 Pipeline Drive, Pastor Rod Smith and Pastor Woody Lovelace officiating.
Please share memories of Toni with her family at burnsmortuaryhermiston.com.
Burns Mortuary of Hermiston is in care of arrangements.