A Washington man was caught in the act of allegedly trying to burglarize a Umatilla business on Friday.
A Umatilla County Sheriff's Office deputy responded around 3:40 a.m. to a report of a person trespassing on the property of Hendon Construction located on N. Highway 395.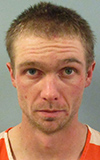 When he arrived at the scene, the deputy found a male hiding under a silver Dodge Ram pick-up truck near a perimeter fence. The man was identified as Devon James Cooper, 24, of Cheney, Wash.
A search of the scene revealed a large hole had been cut in the perimeter fence and possible stolen property was in the pickup, according to the sheriff's office. Cooper was arrested and lodged at the Umatilla County Jail on the charges of possession of a firearm, possession of controlled substance – meth, possession of burglary tools, second-degree theft, second-degree criminal trespass and third-degree criminal mischief.
The sheriff's office said the investigation is ongoing.