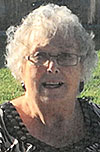 Sherry Lee Hamlin, former Hermiston resident, passed away on Jan. 9, 2021 at the age of 79.
She was born on July 7, 1941 in Omak, Wash.
Sherry lived for many years in Hermiston, and very near her youngest daughter in West Richland, Wash. in her final years. Sherry grew up and graduated in beautiful Lake Chelan, Wash. She also graduated from Highline College. She had a varied career while raising her four children, working for the Boeing Corporation in her youth and finally retiring from Good Shepherd Hospital after 21 years.
She was an amazing host and excelled at both cooking and entertaining, and was a true artist with her sewing, always creating many special experiences for those who participated in her life.
She is survived by her brothers, Jack and Larry Day; sister, Pat Brandenburg; sons, Ken Linck and wife Tobi, and Robin Linck and wife Donna; daughters, Marlee Goodnight and Jennifer Hamlin Backer and wife Amy Backer; grandchildren and great grandchildren, Christopher and Amanda, Danielle, Linck and Hannah, Jolie and Jake, and Rachel, Kody and Jimmy.
She was preceded in death by her parents, Lesley Leland Yetter and Ellen Louise Hutchins Yetter; brother, Jerry Day; and her beloved husband, Doc Hamlin.
In lieu of flowers, and since Sherry loved to nurture people, those who wish to make donations in her name can make them to Agape House at 500 Harper Road or to Martha's House, 305 S.E. Fourth, both in Hermiston. Both organizations are affiliated with Eastern Oregon Mission and provide food and temporary housing services to people in need.
A private family service will be held graveside at Pleasant View Cemetery in Stanfield.
A memorial celebration will be held at a later date due to the ongoing COVID-19 situation.
To leave an online condolence for the family, please go to burnsmortuaryhermiston.com.
Burns Mortuary of Hermiston is in care of arrangements.