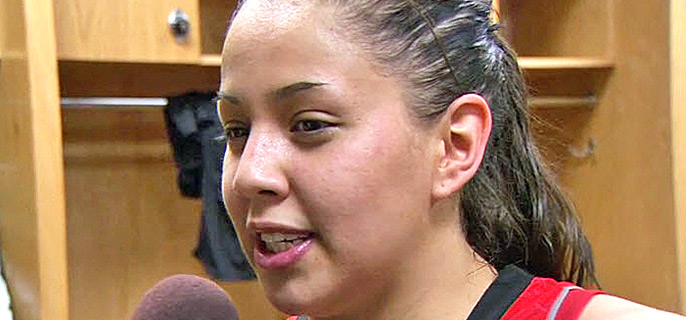 Shoni Schimmel and the Louisville Cardinals continued their string of upsets Sunday night by knocking off No. 2 seed California to advance to the title game against No. 1 seed Connecticut.
Schimmel of Mission played her first two years at Hermiston High School, leading the Bulldogs to a fourth-place and second-place finish in the Oregon 5A Championships. Now she is helping lead the Louisville Cardinals charge to the women's college championship.
Louisville's amazing run began last Sunday when the Cardinals, led by Schimmel's 22 points, shocked Baylor. They followed that up with a victory over No. 2 seed Tennessee, a game in which Schimmel scored 24 points. Tonight's upset over the Golden Bears required a comeback on the part of Louisville, who trailed California by 10 at halftime.
The victory sends the Cardinals into the title game on Tuesday against perennial favorite UConn.
Below are some links to great stories on Shimmel and the Louisville Cardinals:
New York Times profile of the Schimmel sisters
Cardinals advance to title game thanks to comeback win over California
Schimmel leads Cardinals to upset win over Tennessee
Louisville shocks Baylor; Schimmel scores 22
Tennessee the next giant up for Louisville to slay
Here is Shoni's story in the Louisville media guide.