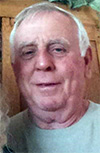 Sidney H. "Sid" Priest died on Aug. 8, 2019 at his home in Hermiston at the age of 78.
He was born on July 29, 1941 in Port Townsend, Wash. to Herbert Wesley and Dora Lurline Vining Priest.
Sid began his school career in Fife, Wash. and graduated from Hermiston High School in the class of 1958, after his father moved the family to the area to work on the construction of McNary Dam. He was united in marriage to Joyce Buchanan on March 17, 1961 in Hermiston. He went to work for the city of Hermiston that same year and retired in 1992 after 31 years as the street superintendent. Sid later worked for BETAH Enterprises for several years. He was captain of the Hermiston Volunteer Fire Department for many years and also served on the Vector Control District board.
Sid was an avid street rod enthusiast, kept a beautifully meticulous yard, and enjoyed RVing.
He is survived by his wife of 58 years, Joyce Priest, Hermiston; his daughter, Shirley Florea and her husband David, Hermiston; brother, Fred and his wife Carole, Deer Park, Wash.; grandsons, Michael and wife Tabitha Ritzer and Mitchell and his fiancé Lauren Koops Ritzer, Hermiston; great grandchildren, Blake and Amelia Ritzer, Hermiston; and numerous nieces and nephews.
Sid was preceded in death by his son, Wesley Priest and his parents, Wes and Lurline Priest.
Services were held on Monday, Aug. 12, 2019 at the Hermiston Cemetery.
Those who wish may make contributions in Sid's name to the ARC of Umatilla County or the Special Olympics of Umatilla County, in care of Burns Mortuary of Hermiston, P.O. Box 289, Hermiston, Ore., 97838.
Please share memories of Sid with his family and friends at burnsmortuaryhermiston.com.