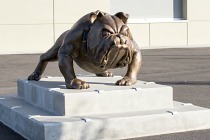 Good news for Hermiston Bulldogs fans who can't make it to Hillsboro for Saturday's state 5A semi-final game against Marist – the Hermiston Sports Boosters will be live streaming the game at John Walchli Farms at 79937 S. Edwards Road in Hermiston.
The game is scheduled to kick off at 5:30 p.m. The Hermiston Sports Boosters will provide a live stream of the game during their annual poker tournament.
Northeast Oregon Now will also have live updates throughout the game.