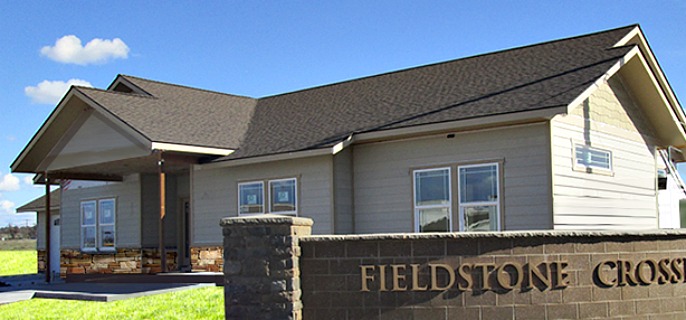 The Hermiston School Board unanimously approved the sale of Fieldstone #1, the first of 11 student-built homes located on West Angus Ave.
Deputy Superintendent Wade Smith reviewed the timeline, process, and documents necessary to offer up the high-end 2,050-square-foot home for sale to the highest bidder. Substantial completion of the home is slated for June 1, 2015, and an open house has been set for that day to show off the custom home to the community. The next day, June 2, prospective buyers will be able to submit sealed bid offers to the district. On June 22, the district will offer the home to the highest bidder.
"We feel that a sealed bid, with a preset reserve price, is the fairest and most competitive process for us to sell our student-built homes," said Smith. "We will announce a fair-market value reserve price on June 1, and interested purchasers may then submit a bid at or above that value. The highest bidder will be awarded the opportunity to close on the home."
Proceeds earned from the sale of Fieldstone #1 will be used to construct the second home in the 11-home subdivision.
The district has made available the timeline, bid information sheets, and other associated documents on the student homebuilding site at www.columbiabasinstudenthomes.org.
"We hope people will be able to visit the site on June 1st, whether they are interested in purchasing the home or not," said Smith. "I am confident that everyone who attends will be overwhelmed by the outstanding craftsmanship and quality of the house."
Fieldstone #1 House Amenities Include:
• 3 Bedroom plus Office/Den, 2 Bath, 2,050-square-foot home
• Premium home with top-of-the-line amenities
• Energy Trust certified home with enhanced insulation, premium efficient windows, conditioned space sealed ductwork, and state-of-the-art heating/cooling systems
• Energy efficient lights, and high-end appliances (double ovens, gas cook-top)
• Exposed beam, vaulted great room, with tongue and groove ceiling (Rest of home 9-foot ceilings)
• Whole-house sound system with built-in entertainment speakers
• "Smart Home" with high speed fiber internet
• Custom wood trim, cabinets, and doors
• Hardwood floors and custom tile work
• Granite Counters
• Central vacuum system
• Security system
• Water softener
• Custom master bathroom, with jetted Jacuzzi tub and walk-in tiled shower
• Double sinks in both bathrooms
• Gas fireplace
• RV parking, with utilities
• Fully landscaped yard with sprinkler system and perimeter fence
• Covered Front and back porches
• Insurance-backed home warranty