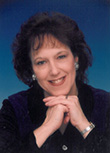 Terri Lee Linnell of Hermiston passed away in Hermiston on April 26, 2019 at the age of 68.
She was born on March 15, 1951 in Pendleton to Hubert and Mary Clark Senn.
Terri lived in Irrigon during most of her childhood, where she attended her schooling. She married Michael Linnell on March 18, 1968, and from this union four children were born. The couple operated Sea Hutch Incorporated. They divorced many years later.
Terri worked throughout her career as a waitress at several local restaurants. She loved spending her time with her children, grandchildren and great grandchildren. Her dog, Oakie and her cat, Kitty brought her much joy. She enjoyed bowling in a senior league, watching reality TV shows (especially Survivor) and walking to meet new people. She had a quirky sense of humor and took pleasure in making people laugh.
She is survived by her daughters, Tia Richards, Stephanie Linnell and Misty Morrison; son, Scott Linnell; 13 grandchildren, Marissa, Hailey, Marlee, Kaycee, Braden, Trevor, Kiana, Katrina, Brandon, Shelby, Sarah, Connor and Madison; three great grandchildren, Mason, Orion and Dawson; sisters, Gloria Miller and Stacy Meyer; brothers, Dallas Senn and Cloyd Senn; and several nieces and nephews.
She was preceded in death by her parents; sister, Linda McRae; and longtime partner, Lloyd Brundage.
Funeral services will be at 11 a.m. on Saturday, May 4, 2019 at Burns Mortuary of Hermiston, 685 W. Hermiston Ave.
Burial will follow in Desert Lawn Memorial Cemetery in Irrigon.
Family suggests memorial donations in Terri's memory to Pet Rescue-Humane Society of Eastern Oregon.
To leave an online condolence for the family, go to burnsmortuaryhermiston.com.