Thelma "Gay" Morgan Roubidoux passed away at her parent's home on May 11, 2013 after a sudden illness.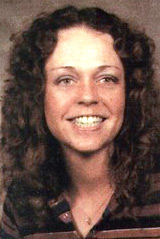 She was born on Jan. 26, 1953 in Blackfoot, Idaho. Her parents, Fredrick Willard Morgan and Helen Joyce Silcox Morgan, traveled extensively in her young years as her father was employed by Phillips Petroleum in the oil fields. The family finally settled in Soda Springs, Idaho where Gay attended school. She was an excellent student and in the third grade she was advanced a class. The family then moved to Blackfoot, Idaho where Gay met and later married Robert Roubidoux. They had a child together, Robert Shane, and he was the light of Gay's life. Her husband was killed soon after, leaving Gay as a single parent. Gay's mom and stepdad, Lester Chizek, moved to Umatilla in 1975 and Gay and Shane soon followed. She worked at Westwinds Nursery for several years in a job that she truly enjoyed.
Gay was a beautiful person inside and out. She loved her family and she was an avid animal lover as well.
She was a beloved mother, daughter, sister, and friend.
Our hearts are broken, but your spirit will remain inside all of us forever. We love you more than you will ever know. We will miss you. Rest in peace.
She is survived by her son: Robert Shane Roubidoux, Hermiston; her mother and stepfather: Lester and Joyce Chizek, Hermiston; sisters: Debbie Hood(Kevin), Kennewick, Wash., and Lori Myers(Rob), Condon; brothers: Mark Morgan(Shelli), Arimo, Idaho, and Chris Chizek, Hermiston; nieces: Brianna Quigley(Mark), Kennewick, Wash., Jennifer Delauney(Jeff), Seattle, Wash.; three grandnephews; and uncles: Wayne Deveraux, Red Bluff, Calif., and Dave Deveraux, St. George, Utah.
Gay was preceded in death by her father, her husband, and her grandparents.
Shall I wither and fall like an autumn leaf,
From this deep sorrow – from this painful grief?
How can I go on or find a way to be strong?
Death is a truth like life……
A celebration of life service was held on Friday, May 17, 2013 at Burns Mortuary Chapel, Hermiston.
Burial followed at the Hermiston Cemetery.
Contributions may be made in Gay's memory to Pet Rescue.
Please sign the condolence book at burnsmortuaryhermiston.com
Burns Mortuary of Hermiston is in care of arrangements.